The Queen will spend today in privacy. She was spotted with a butterfly-shaped brooch she rarely wears, which was a wedding gift from her late husband. Additionally, a special rose was created in honor of the 100th birthday of the Duke of Edinburgh.
Prince Philip died on April 9 this year, at the age of 99, and on June 10 he was to celebrate his 100th birthday.
On the eve of her longtime partner's birthday, Queen Elizabeth was spotted wearing a brooch she had rarely worn before. Namely, she received the brooch made of diamonds and rubies as a wedding gift after the public engagement with Prince Philip.
At a virtual audience with the Ambassador of the Republic of South Sudan, Queen Elizabeth (95) wore a butterfly brooch as a gift from Countess Dowager of Onslow for her engagement to Prince Philip in 1947.
The Queen has worn this brooch in public only a few times and was last seen with it at a church service in Sandringham in 2019. She was last seen with him in 2012 when she visited the Women's Institute in Sandringham.
The Queen plants a rose in his honor
Today, the Queen will spend it privately, but yesterday, on the eve of Prince Philip's birthday, she planted a rose in the garden at Windsor Palace, which Philip helped transform.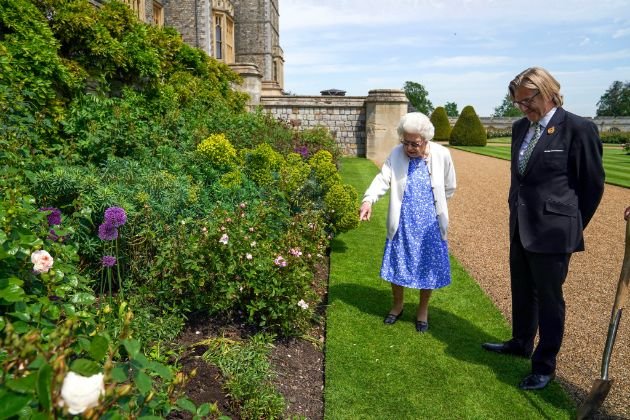 The rose dubbed the "Duke of Edinburgh", is deep pink and was specially created to mark the prince's centenary. It was handed over to the Queen last week by the president of the Royal Horticultural Association, Keith Wid.
"Although it was very moving, it was also a real pleasure to present it to the patron saint of the Royal Horticultural Society, Her Majesty the Queen, the 'Duke of Edinburgh' rose to mark the day that was to be his 100th birthday and to remember it. his exceptional life. The Duke's commitment to raising public awareness for the preservation of the natural world is of paramount importance.", said Vid.
Otherwise, part of the money earned from the sale of each of these roses named after the deceased prince will be directed to The Duke of Edinburgh's Award Living Legacy Fund whose main purpose is to help as many people as possible to participate at the Duke of Edinburgh Award, which is given to young people with exceptional achievements and is active in over 140 countries.
Always be up to date with the news and follow the trends!