Lip fillers are the norm for many women, and now Adele has followed their example, although she claimed that she would never change her face. Some plastic surgeons, on the other hand, are convinced that the singer has made other corrections after losing weight.
 

View this post on Instagram

 
Adele enlarged her lips and completely changed her appearance
Adele pleasantly surprised the public with the drastic transformation after she got rid of the excess weight and started taking better care of her health.
Both before and after the transformation, Adele always wanted to highlight only her natural beauty, and she has even stated that she would never do a facial correction.
But it seems that the 34-year-old singer has also started to follow the trend of many other women – now she has also put fillers on her lips.
Adele was spotted in a car with her boyfriend Rich Paul, and the difference in her lips is more than obvious.
In the paparazzo photos, Adele is looking in the mirror in the car, and her lips are noticeably bigger. Adele was also photographed getting out of the car, trying to hide her face.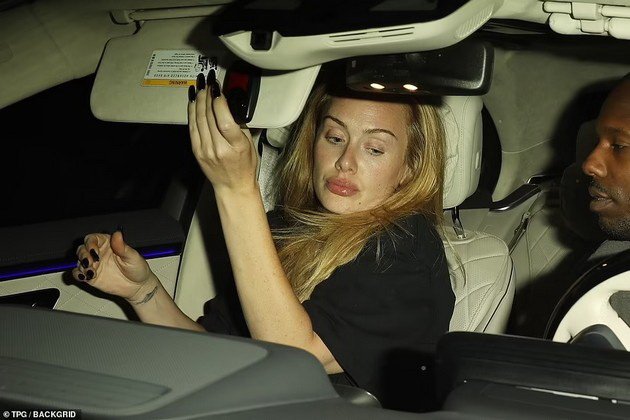 Cosmetic surgeons claim that there are other corrections
With a healthy diet and hard training, Adele managed to lose about 90 pounds in a period of two years, so it is natural that her face looks very different.
But even after the first photos of Adele appeared after losing weight, several plastic surgeons announced that the singer must have done some kind of facial correction.
According to one surgeon, it is quite possible that Adele has had a jaw correction.
"It's possible her jawline is more pronounced because of the weight loss, but it looks very defined now, so I wouldn't be surprised if she got a little help. I think she has had a filler treatment that accentuates her jawline.", the plastic surgeon told Page Six.
 

View this post on Instagram

 
For the Daily Mail, however, another surgeon says that it is not uncommon for people Adele's age to go for skin tightening treatments after losing a lot of weight.
"From the looks of her cheeks and jawline, it's possible she's had fillers. It is also possible that he used laser therapy for skin tightening."
Many other plastic surgeons have a similar attitude, but Adele herself has not mentioned anything.
In fact, a few years ago she stated that she had no plans to make changes to her face:
"I don't like plastic surgery. I will look like this forever. Make peace with it."
Download the new game Guess The Celebrity Quiz and check how well you know your idols
Always be up to date with the news and follow the trends!