In a surprising turn of events, Barbadian singer Rihanna and American rapper ASAP Rocky are reportedly expecting their third child, just months after welcoming their second baby. The celebrity couple, who began dating in 2020, first became parents in May 2022 with the birth of their son, RZA Athelston Mayers. Then the arrival of their second child, Riot, in August 2023.
However, amid the excitement, a viral picture circulating on the internet led to rampant speculation about Rihanna's pregnancy.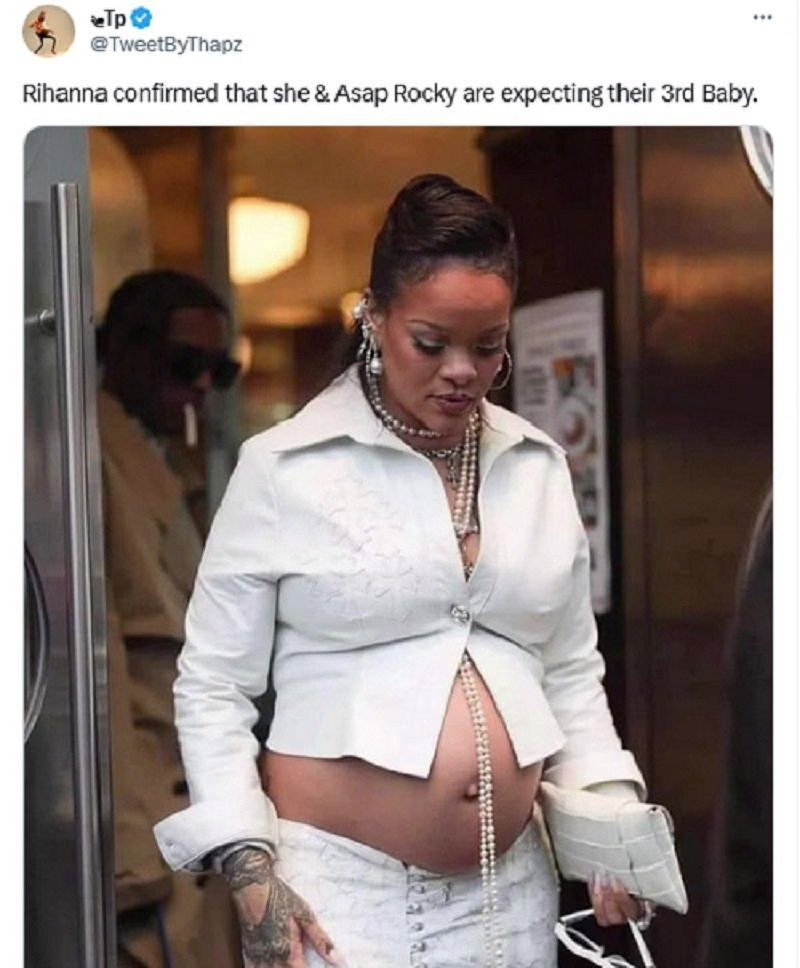 Social media users were quick to share the image, suggesting that the singer was expecting her third child. But, a fact check reveals that the image was a case of misinformation.
Rihanna and ASAP Rocky Expecting Their 3rd Baby? Debunking Viral Pregnancy Picture
While the speculation about a third pregnancy spread like wildfire, Rihanna and ASAP Rocky have not officially announced any such news. It's essential to separate fact from fiction, and the viral picture turned out to be a false alarm.
This isn't the first time the couple's family planning has become a topic of discussion. After the birth of their first son, RZA, in May 2022, fans were already wondering if the duo had plans for more children. In a 2023 interview with British Vogue, conducted before confirming her second pregnancy, Rihanna shared her thoughts on expanding her family, stating,
"Listen, I'm down for whatever. My wish would be I would like to have more kids, but whatever God wants for me, I'm here. I'm open. Girl, boy. Whatever."
As of now, Rihanna and ASAP Rocky have not officially announced a third pregnancy. The couple seems to be enjoying parenthood with their two sons, RZA and the soon-to-arrive Riot. Only time will tell if their family will continue to grow, but for now, fans can rest assured that the viral pregnancy picture was nothing more than a false alarm in the world of celebrity gossip.
👉🏻 Your contribution to BuyMeACoffee can give us the strength to continue delivering the latest and most comprehensive news.
Download the new game Guess The Celebrity Quiz and check how well you know your idols
Always be up to date with the news and follow the trends!
👉🏻 Support our work by giving us a small donation