The eldest of the Kardashian sisters, Kourtney, recently gave birth to son Rocky 13, with husband Travis Barker, but apparently, the couple plans to introduce new rules.
If in the past the Kardashian family was known to make their entire private life public, Kourtney decided to hide her son from the public eye for as long as possible.
Kourtney Kardashian's Baby Will Only Be Seen By Invitees
So far, she and Travis have not released any photos of the baby, nor have they shared any information about his birth. But apparently, this rule doesn't just apply to the general public, it also applies to Kourtney's family.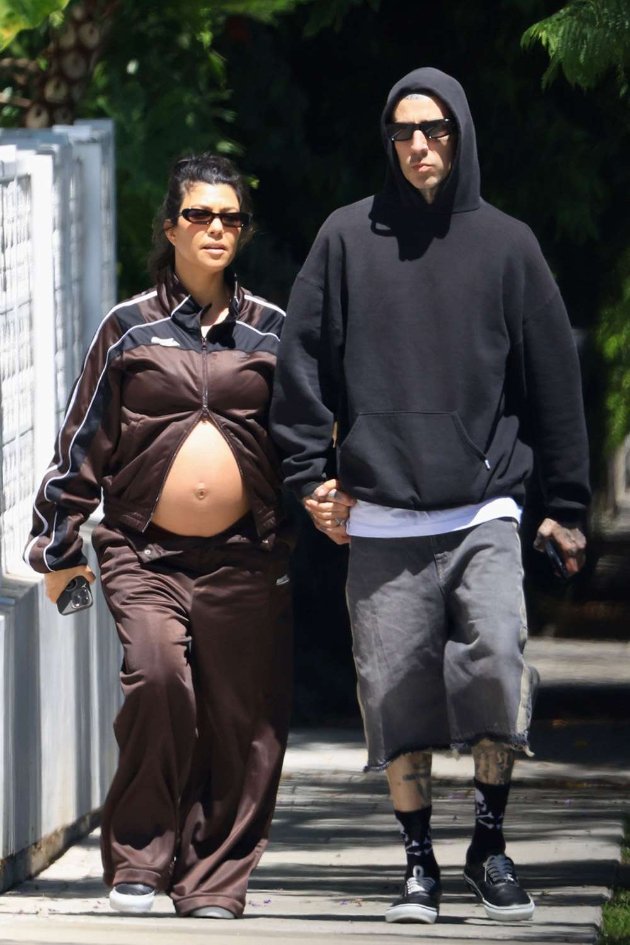 As the US Sun writes, Kourtney has not yet allowed her family members to see the baby, and her sisters and mother Kris Jenner will be able to see him only after receiving an invitation.
"Kourtney and Travis have agreed that they will take time only for the immediate family and for Kourtney to rest, and then they will send invitations to other family members, one by one.", the newspaper writes.
Kim Still Not Invited
According to sources close to the couple, even Kim has not had the opportunity to see the grandson. This fact is not surprising at all, considering that the sisters have a broken relationship, and just before Kourtney gave birth, there were speculations in some of the world's media that she and Kim had a fight because of Travis.
With Travis writing in his 2016 memoir that he thinks Kim Kardashian is "f**king hot", speculation has surfaced on social media that the two sisters are under strain due to Kim and Travis having an affair in the past.
Travis denied such writings, and on the reality show, the sisters revealed that they had a separate group called "Without Kourtney" where they complained and gossiped about the oldest sister.
To this, Kourtney simply replied to Kim:
"I have a happy life and I'm happiest when I'm away from you." Especially from you!"
👉🏻 Your contribution to BuyMeACoffee can give us the strength to continue delivering the latest and most comprehensive news.
Download the new game Guess The Celebrity Quiz and check how well you know your idols
Always be up to date with the news and follow the trends!
👉🏻 Support our work by giving us a small donation