Some of the people who were victims of Chrissy Teigen's violence come out with accusations that they had suicidal thoughts because of her, and she came out with a long statement on Instagram in which she publicly apologized again for her mistakes from the past.
Courtney Stodden, Lindsay Lohan and Farrah Abraham said they had been the victims of abusive and violent tweets by the model from 2011 to 2013, with fashion designer Michael Costello accusing Teigen of publicly "blackmailing" him due to a misunderstanding. ruined his career and caused him to have suicidal thoughts.
Chrissy Teigen talks about tweets that led people to suicidal thoughts
In a long message on Instagram, Chrissy Teigen publicly apologized to the people she had recklessly hurt in the past and to whom she had sent offensive and violent messages.
"As you know, I was silent and I know you don't want to hear about me, but I want you to know that I was imprisoned for a well-deserved global condemnation, I sat and thought about what I had done. Not a day went by, not a single moment when I didn't feel heavy because I regret the things I said in the past.", she says.
As she says, she is very ashamed of her old tweets that were recently published in public. He pointed out that he publicly apologized to one person, but there are many others to whom he should apologize.
"The truth is that I am no longer the person who wrote those horrible things. I grew up, I was on therapy, I got married, I had children, I was on therapy again, I experienced loss and pain, I was on therapy again and I experienced it from my life. I WAS THE THERAPY AGAIN. Life has made me more compassionate.

Now I understand more what motivates trolls – the instant acceptance you get from commenting, hitting and throwing stones at someone you think is invulnerable because he is famous. I also know what it is like to be a victim of such attacks. Believe me, I see the irony now.", she says, among other things.
Although in the letter she says that some of the victims didn't even want to talk to her, in the end she sent a message to her victims:
"I will not ask for forgiveness, only patience and tolerance. I ask that you allow me, as I promised you, to face the mistakes of the past and give me the opportunity to become a better person and to change."
 

View this post on Instagram

 
The whole story of the model's infamous past came to light recently when she decided to leave Twitter because she allegedly didn't know how to deal with all the negativity.
Following this, Courtney Stodden came out with claims that Teigen was posting violent and insulting tweets to her when she was only 16 years old.
"Shame that @chrissyteigen is leaving Twitter… it is 'negative' for her #crissyteigen #violent."
She posted a series of tweets that Teigen sent her in 2011 in which she publicly ridiculed her appearance, insulted her and used abusive words, and tweets were posted that the model also sent to Lindsay Lohan and Farrah Abraham.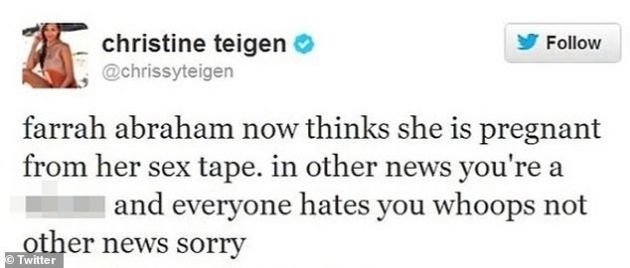 Apart from her behavior on social networks, negative comments are also received about her behavior in the fashion industry.
Fashion designer Michael Costello, who was part of the "Project Runway" show on his Instagram account on Monday, announced that due to a misunderstanding, Chrissy Teigen completely endangered his career in the fashion industry, due to which he had suicidal thoughts.
According to him, Chrissy Teigen based her opinion on him based on processed photos published by a former employee of the designer, which show him as a racist.
He says it has now been proven that those photos were processed and removed from the internet.
Costello also posted photos showing part of the correspondence with Chrissy, where he tries to explain that it is a misunderstanding, but she simply tells him: "Your career is over, just look!"
"For the last 7 years, I have been living with deep, incurable trauma. I did not share this with anyone because I lived in fear. I was afraid I would lose some of my most lucrative brand relationships. I was afraid I would lose friends and allies and I was afraid I would be further tarnished by some of the ruling elites in the industry.", he says.
As he points out, because of such problems that Chrissy caused him in his career, he started to lose the meaning of life and thought of taking his own life.
"I'm not good. "I may never be well, but today I choose to tell my truth.", he says and asks his followers not to say anything bad or that would hurt Teigen in the comments because he tries every day to love himself and forget what happened.
Always be up to date with the news and follow the trends!