In a rare moment of understated fashion, Cardi B, the outspoken hip-hop sensation, managed to momentarily slip under the radar during a recent shopping excursion at Aventura Mall in Miami. Renowned for her flashy style and larger-than-life persona, Cardi surprised onlookers by opting for a more low-key appearance, sporting no makeup and wrapping her hair in a simple head-wrap.
Cardi B Looks Almost Unrecognizable In A Head-Wrap And No Make-Up While Shopping In Miami
The Bodak Yellow rapper, 27, was almost unrecognizable as she strolled through the mall in a form-fitting blue mini-dress, showcasing her curves and revealing parts of a substantial tattoo along the right side of her derriere and leg. Despite the attempt to maintain anonymity, it proved challenging as she was accompanied by three imposing security guards, a necessary precaution in such a public space.
Cardi made stops at several high-end stores, including Louis Vuitton, Ferrari, Foot Locker, and Gucci, as well as a baby clothing store and a bakery. The shopping spree took an unexpected turn when word spread of Cardi's presence, drawing crowds eager for a glimpse of one of the most famous female artists of the moment.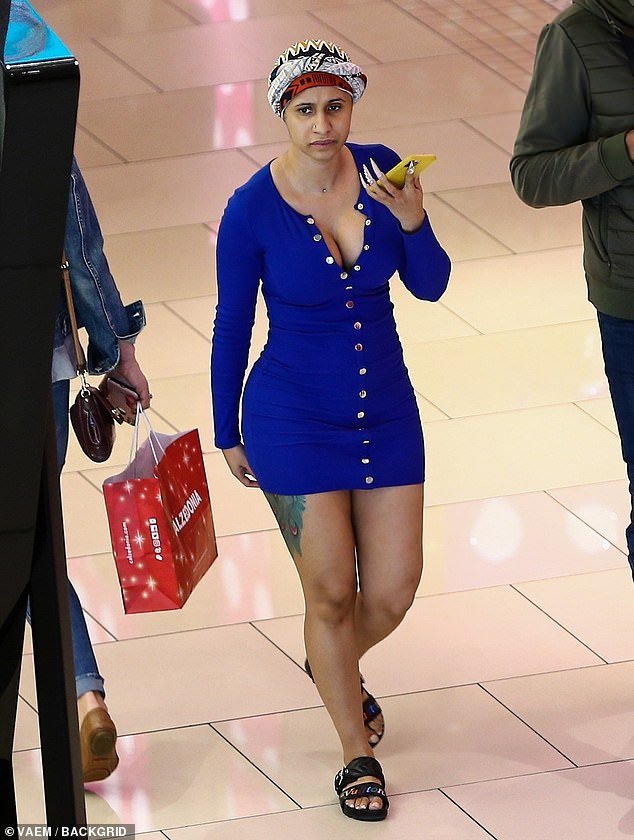 @onlinemagazinenews What Happened To Cardi B Seems Almost Unrecognizable 💄➡️😱 #shorts Step into Cardi B's world as she takes an unexpected turn, embracing a simple look during a shopping spree at a bustling mall. Cardi surprises fans with her down-to-earth style, dressed in a blue mini-dress, a casual head-wrap, and no makeup. 🌟👀 Join us as we decode the mystery behind Cardi B's transformation on this intriguing day! 💯 What do you think inspired Cardi B's decision to go makeup-free and opt for a low-key look during her recent shopping spree? 🎤 Drop your theories below, and let's unravel the mysteries of love in the world of this iconic 'Friends' star!👇👇👇 👉🏻 Read more here: https://onlinemagnews.com/cardi-b-unrecognizable-no-make-up-shopping/ 🌟 To learn more about the latest news, click the link in the bio! #cardib #shopping #nomakeup #rumors #celebrities #celebritynews #celebritynewsupdate #trending #viralvideo #viralvideoshorts #shortsfeed ♬ original sound – Online Magazine News
Even in her pared-back look, Cardi couldn't escape the growing throngs of fans who gathered around her during the shopping excursion. As she browsed through stores, the rapper engaged in a phone conversation, with fans hovering nearby, eager to capture a moment with the music sensation.
This uncharacteristically subdued outing came on the heels of Cardi sharing behind-the-scenes footage of her first Vogue cover shoot, featuring her one-year-old daughter, Kulture. It seems that even in moments of privacy, Cardi B remains a magnetic figure, effortlessly attracting attention wherever she goes.
👉🏻 Your contribution to BuyMeACoffee can give us the strength to continue delivering the latest and most comprehensive news.
Download the new game Guess The Celebrity Quiz and check how well you know your idols
Always be up to date with the news and follow the trends!
👉🏻 Support our work by giving us a small donation