While the whole world is talking about the alleged renewal of Angelina Jolie's relationship with her ex-husband, the actress took a walk in a fascinating issue and showed off her new tattoo.
Actress Angelina Jolie has several tattoos on her body and the paparazzi didn't miss the last one.
Angelina Jolie enchants in everyday edition and shows the new tattoo and its meaning
The tattoo is located on the forearm and consists of the inscription Eppur si muove, which is a famous quote from Galileo Galilei and means "Still moving", and dates back to 1633 when the famous scientist was forced to withdraw the claim that the Earth revolves around the sun.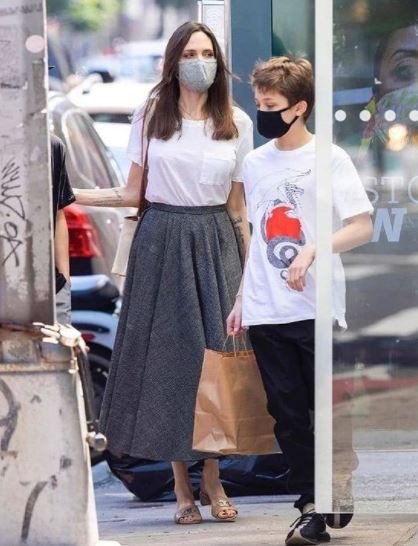 The media interprets this as the belief that the truth must come to light and connects it with the custody fight that Angelina is waging with her ex-husband Brad Pitt, which she doesn't go according to her wishes – the court recently decided that they share the custody over six children.
Does Angelina want to tell her ex-husband and the court that she will end up on her own?!
In any case, the actress showed off her new tattoo as she walked around New York and had lunch at a fast-food restaurant. For this occasion, she wore a very trendy fashion combination, which attracted the attention of the media despite its simplicity.
 

View this post on Instagram

 
Everlane white T-shirt adorned with a pocket for which she set aside $18 and a pleated dark gray skirt. He complemented this edition with Salvatore Ferragamo slippers, which cost almost $600, and combined them with a beige Louis Vuitton bag.
Always be up to date with the news and follow the trends!