Cristiano Ronaldo and Lionel Messi are in a constant battle to be the best soccer player on the planet. The question can be debated and answered for the whole lifetime but it'll not get the conclusion, because both are really good players.
Everyone has to agree that Messi is a much better dribbler than Cristiano Ronaldo, but at the same time Ronaldo has a great goal scoring ability, his heading cannot be compared with Messi's. But at the same time, Messi is really a great playmaker.
Both players are unrelenting goal machines who show no mercy when they come face-to-face with opposing defenders and goalkeepers, yet Real Madrid striker Ronaldo and FC Barcelona forward Messi chalk up their goals by utilising different styles.
Ronaldo is an all-round athlete who would likely have excelled in many sports. He has an extraordinary burst of pace, is incredibly strong, and is dominant in the air. Ronaldo is best known for scoring incredible goals from all angles – bullet-like headers from close range, long-distance howitzers, and from dead ball scenarios like free kicks and penalties.
Messi is shorter and less physically imposing than Ronaldo, but has great agility and can seemingly change direction, quickly, at will. He is an expert dribbler of the football, a creative forward, and is lethal in front of goal. Messi is regarded as a soccer magician who casts spells on opponents and beguiles audiences and media alike.
The question is, who is better between Cristiano Ronaldo and Lionel Messi?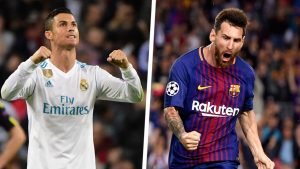 That is a question that is constantly up for debate, but one area where the case must now be closed is performance in the big games on the grandest of stages.
It was a point recently raised by soccer expert Tom Adams, deputy managing editor at Eurosport, who tweeted that Messi's record in "the biggest competitions compared to Ronaldo's is looking very shoddy."
The stats show the winner is clear..
The last time Messi scored a UEFA Champions League goal in the quarterfinal stage or later was in 2015, when he struck twice in his side's 3-0 semifinal win over Bayern Munich. Since then, he has failed to score in the latter stages (quarterfinal or later).
Ronaldo, since Messi's two goals against Bayern that year, has scored 11 quarterfinal goals, three semifinal goals, and two goals in the final.
However, this season alone, Messi has created two goals and scored six in 10 Champions League appearances. This is an attacking efficiency of a goal scored or created once for every 97 minutes he has been on the pitch.
Messi's strike rate in Europe is impressive, yes – but not when you compare him to Ronaldo.
Ronaldo has created three goals and scored 15 in 10 Champions League outings. That's an attacking efficiency of a goal scored or created once for every 50 minutes he has been on the pitch.
In European competition, Ronaldo has been twice as productive as Messi has this season.
There is no argument to be had — when it comes to the latter stages of their careers, it is Ronaldo and Ronaldo alone who has been excelling in the big games on the grandest of stages.
For me both Cristiano Ronaldo and Lionel Messi are great players, so we need to respect them and adore them as much as we can. It is all about respect, than the comparison and the hatred. let's stop comparing them, and enjoy the beautiful game of football.