Travis Barker is constantly appearing in the media these days as Kourtney Kardashian's new boyfriend. Everyone agrees: Kourtney and Travis are in love – they constantly share new and new photos with which they express their love for each other.
The last photo that Kourtney Kardashian published with him is really bold and circulated the world media with the speed of light.
 

View this post on Instagram

 
We know that he is a drummer in the band Blink-182, but what are the other more interesting details about Travis Barker that are less known to us?
Travis Barker is the father of two (older) children
Travis has two children from his previous marriage to Shanna Moakler. Travis and Shanna divorced in 2008, and he is the father of 17-year-old  Landon Asher Barker and 15-year-old Alabama Luella Barker.
In addition, Travis acts as the father of Shanna's child, 21-year-old Atiana De La Hoya.
 

View this post on Instagram

 
Travis Barker and Kourtney Kardashian are neighbors 
If you are wondering where they met, then the answer is very simple – they are neighbors. According to media reports, Kourtney Kardashian (41) and Travis Barker (45) have been friends for years. They lived together in Calabasas, California before the area became an area of fame and fortune.
Over the years, they have gone to lunch together, to church, socialized, and even gym together. It is believed that this friendship grew into a love affair earlier this year, and the two announced that they are together before Valentine's Day.
Travis Barker was part of the reality show Keeping up with the Kardashians
Those who regularly watch the reality show Keeping up with the Kardashians know that Travis has appeared in several episodes, at parties, and in one episode he appears in the family home and Kourtney Kardashian explained their relationship:
"Our neighbor and friend, Travis Barker, decided to come because his kids and my kids are good friends.", Kourtney explained in an episode of 2017 year.
 

View this post on Instagram

 
Travis Barker survived an airplane crash in 2008
Before he met Kourtney and her family and before the world knew about them, Travis Barker was very popular with the band Blink-182. He survived an airplane crash in 2008. Travis and his friend Adam Goldstein were the only two survivors of the six people on board at the time.
Travis managed to get off the plane before it exploded. After this, the drummer underwent 27 operations after he suffered burns on about 65% of his body in the accident.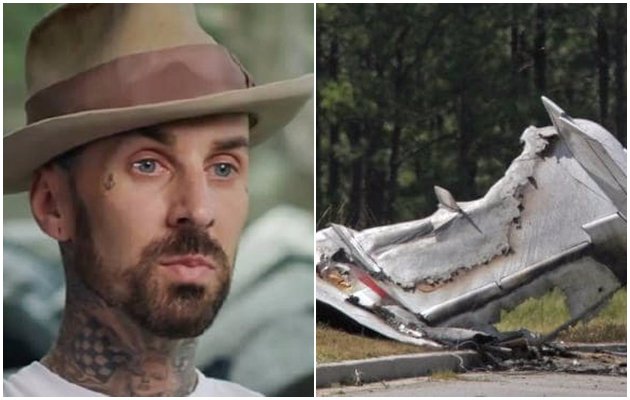 Travis is vegan
Although it may not seem like it at first glance, Travis decided to change his lifestyle and become a vegan after the airplane crash. He explains that this diet allows him to have much more energy:
"I can work all day and not get tired. It doesn't matter what kind of show I worked on, or what I rehearsed, I still have the strength to make myself fall asleep at night."
Travis Barker has a tattoo with Kourtney's name on his chest
One of the moments when Travis publicly expressed his love for Kourtney was the photo he posted on social media, which shows him tattooing Kourtney on his chest.
Travis has its own fashion brand
Much like Scott, Rob and Kanye and Travis have their own fashion brand. His Famous Stars and Straps brand includes urban clothing inspired by everything he loves, including music, art and cars.
 

View this post on Instagram

 
Travis's mother died when he was 13 years old 
Travis lost his mother when he was very young. The drummer's mother died of cancer she had been diagnosed with just three months earlier. As Travis has previously stated, his mother was aware of his talent when he was very young, so her last wish was for him to fight for what he wanted.
Before becoming a musician, Travis Barker worked as a garbage collector
Travis worked as a garbage collector in Laguna Beach, California, before becoming a musician.
 

View this post on Instagram

 
Always be up to date with the news and follow the trends!