Lately, the boundaries of the fashion industry are changing, so we are increasingly reading and seeing models with curves as a counterweight to the weak that have dominated the fashion scene for years.
Plus size version of the most popular fashion campaigns
But the site BuzzFeed tried to make this topic even more relevant, creating photos and videos with some of the most popular fashion campaigns but with plus size models.
Their purpose is not only to point out the need for diversity in the fashion industry but also to emphasize that women in all sizes and shapes are beautiful.
"Showing things up is very important because every person has the right to feel good without a stupid internet doctor giving some "advice". Every body is special, and the most important thing is how you feel in it.", says Sheridan, one of the models in the campaign, speaking from personal experience.
Take a look at the plus size version of the most popular fashion campaigns:
Original commercial: Tommy Hilfiger for fall 2016 with Gigi Hadid
Plus size model: Kristin
"When I saw the ad, I thought, who comes out only in a coat, what is this nonsense. But I told myself I would do this, there is no reason why a plus-size model could not do this. When the photos came out, I was shocked at how good they looked. I kept asking if they were photoshoots, even though they kept telling me it was my body.

I used to get a lot of comments that I could not do nice fashion things with this body of mine, so I felt like I was making a mistake. But with this, you need to realize how much difference it has when you have good make-up, hairstyle, lighting, photographer and of course great clothes."
The original ad: Agent Provocateur, for fall 2016 with Abbey Lee Kershaw
Plus size model: Kelis Rose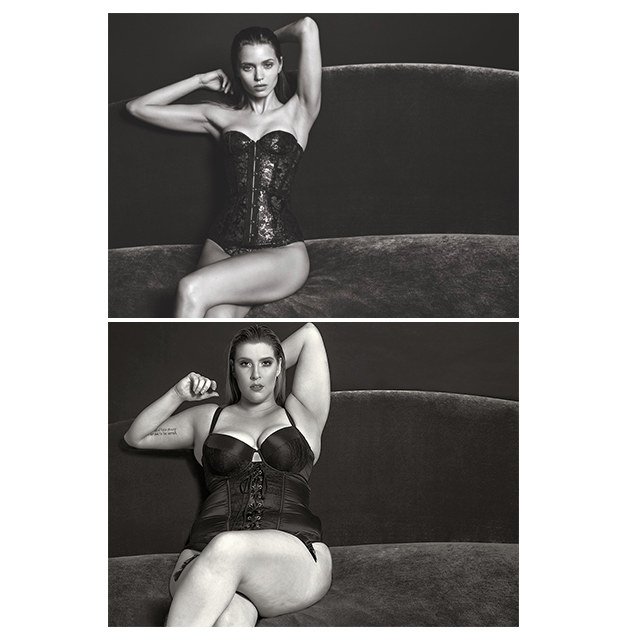 "As a plus size woman, underwear really scares me. I have always had a problem finding underwear that suits me, but at the same time feeling sexy. As I was growing up, when I saw this type of ad, there were always models in them that I could not identify with because I have big hips, a DD bra.

I am very happy now, because believe it or not, I love my curves and it is time to show the world that curves can be sexy too. I will not lie, when I saw the original ad, I thought I would not be able to do it. There is no way anything can be hidden in the photo. This is literally underwear, corset and panties and me. I thought you will get the raw form of Kelis Rose. But when we started the set, I felt sexy and powerful. I realized that not having a body like the one in the photo does not mean that I will be less hot."
Original commercial: Kate Spade, Spring 2016 with Jordan Dunn
Plus size model: Danika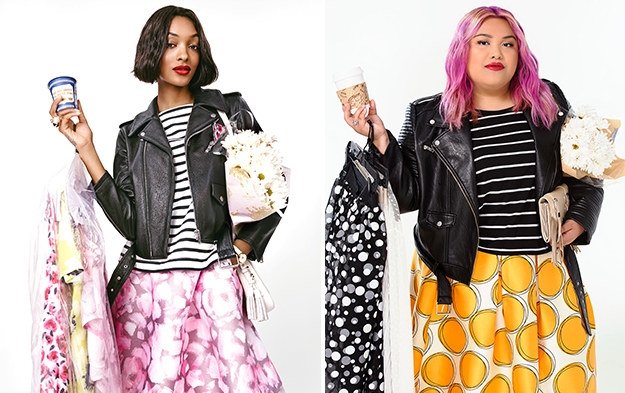 "When I was growing up I never saw myself as a model, because I always thought that in order to be accepted or to think that you are beautiful, you have to be small in size, or light in weight. I did not have much self-confidence as a child either. They joked about my weight. Even in the family circle. I got comments like, "Oh, you're fat now" or "Eat more, the food will go to the waist."

Now, when I saw myself in this new version of the ads, I was shocked at how I look in the photos. I'm used to being behind the scenes all the time, running around and making others look good. This definitely made me step out of my comfort zone and gave me a lot of confidence. I also realized that I do not have to worry about what others think, that we need to be able to do what we think is good, but to love ourselves first."
Original commercial: Calvin Klein for Spring 2016, with Kendall Jenner
Plus size model: Kisha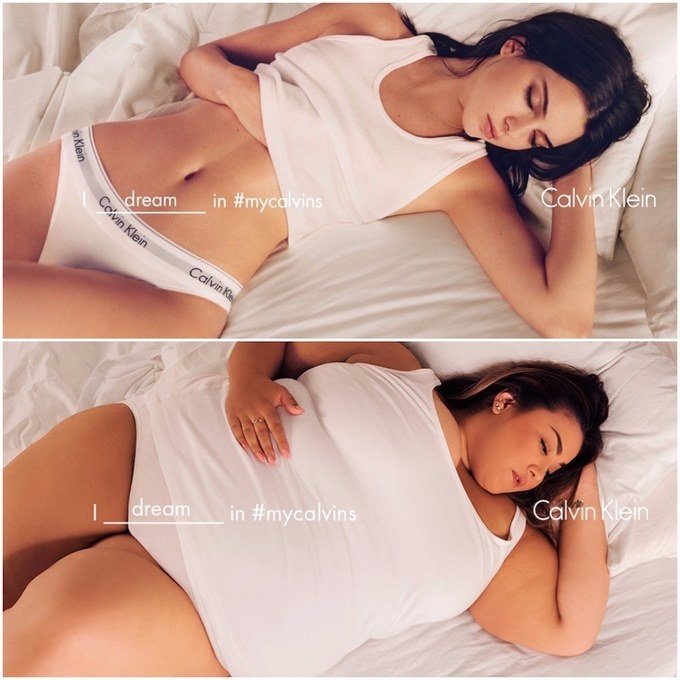 "Guys, sorry, but I'm not Kendall Jenner, nor do I have her body. I do not know if it is obvious or not, but being a model is difficult. This may seem very honest or incredible, but I worked really hard. Bodies are not naturally made for posing. In the end, I was happy to pose on the sheets, with my shoulder open, to show the original look, even though my breasts were suffocating me.

Honestly, I can't believe I was photographed half-naked, pretending to be Jenner. What do I imagine? But still, this is a beautiful experience and all women are beautiful and infinitely inspiring and talented."
Original commercial: Barberi for Spring 2016, with May and Ruth Bell
Plus size models: Sheridan and Jasmine
"I will say right away, I am a big fan of my body. This may be because I have the youngest child in the family. However, it was still challenging and scary to undress topless in a room full of people, plus everyone would see my right breast online.

It took me a while to get rid of the bullying I had in adolescence by others, and when I did, I felt euphoric. Then I felt a little pain, due to the awkward posture. The Bell twins are beautiful, but that does not mean that Jazz and I are not beautiful either.", said Sheridan.
"Honestly, I always wanted to do a topless photoshoot, and when this chance came out, I was very nervous. I wanted to stay calm and sexy, at the same time I was wondering if my nipples were in place. I can not believe how strong what we have done!

We are an African-American version of this ad. I think Barberi should be proud of this! After this experience, I realized that I would probably be the hardest model because this job is difficult. You have to stay in the same position, focus on the face and body and all at once.", said Jasmine.
Download the new game Guess The Celebrity Quiz and check how well you know your idols
Always be up to date with the news and follow the trends!