Singer Britney Spears first appeared after the emotional testimony during the hearing related to her father's legal custody.
"I apologize for lying that I was OK for the last two years… I did it out of pride and I was ashamed to show what was happening to me.", Britney Spears wrote on Instagram after emotionally testifying about legal guardianship.
Britney Spears finally spoke up: "I'm sorry for lying that I've been fine for the last two years – I'm not well"
She posted a long text on her Instagram account in which she apologized for lying for the last two years that she was good, but in fact, she wasn't, as her fans suspected.
"I just want to tell you a little secret м I believe that as humans we all want a life that looks like a fairy tale and the way I posted things… My life seemed wonderful to you… I think we all aim for that!

It was one of my mother's best qualities… No matter how bad the day I was when I was younger, for my own good and for the good of the family she always pretended that everything was fine. I want to draw your attention to this because I do not want people to think that my life is perfect BECAUSE IT IS NOT AT ALL… And if you read anything about me in the news this week те you obviously know it's not!

I'm sorry for lying that I've been okay for the last two years… I did it out of pride and I'm ashamed to show what's happening to me… But honestly who does not want to show themselves on Instagram in a fun light?

Believe it or not, the fact that I lied that I was right actually helped me… I decided to share this today because if you are already going through hell… I feel that Instagram helped me and gave me the opportunity to show that I am present… That I exist… "Just to feel important to someone no matter what I was going through and yes, it helped me… So I decided to read more fairy tales.", Britney wrote on Instagram.
 

View this post on Instagram

 
In the past, Britney posted various videos, which fans often said were weird, and even acted as if someone had kidnapped her and dictated how to behave on Instagram. She was repeatedly asked in the comments if she was okay and if she was okay.
 

View this post on Instagram

 
During the testimony on Tuesday (June 22) when Britney was emotionally talking about what she was facing due to her father's legal custody, a large number of her fans gathered in front of the court in Los Angeles to support her.
In addition, her ex-boyfriend Justin Timberlake, with whom she was in a relationship from 1999 to 2002, before her marriage to Kevin Federline, also gave public support to her.
After her divorce from Federline, Britney had a public outburst that resulted in her father's legal custody.
 

View this post on Instagram

 
Some media write that the biggest role in the fact that Britney finally decided to get back her life and get rid of legal guardianship, has her new boyfriend, fitness trainer Sam Asghari.
He was with her during her testimony in Los Angeles. E-News! citing sources close to the couple, he writes that he is very proud that Britney has finally decided to stop and talk about herself.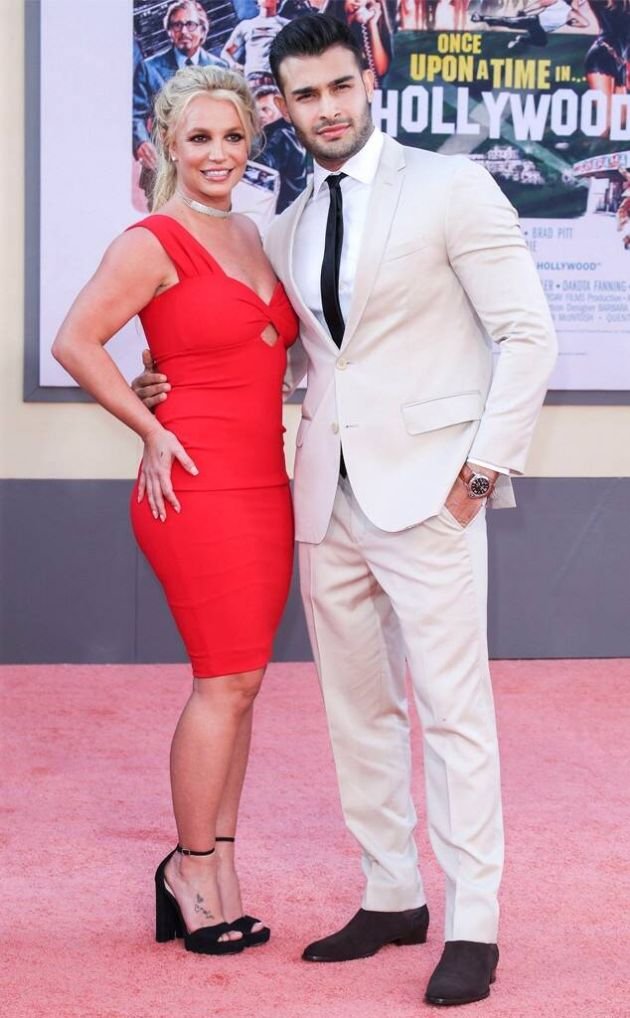 In her 25-minute appearance before the court in Los Angeles, Britney, among other things, said that she wants to marry her boyfriend and have children, but that due to legal guardianship she can't do that.
"I want legal guardianship to end – I really believe this is violence. I want to be able to marry my boyfriend and have a baby, but legal guardianship doesn't allow me.

I have an IUD so I can't have a baby. I want to go to the doctor and get her out, but they (legal guardians) do not allow me. I feel like someone is constantly abusing me and I am lonely.", said the singer in her address which lasted about 25 minutes.
During Tuesday's hearing, Britney made only a statement but didn't petition to have her father's custody revoked. It is expected that a new hearing will be scheduled at which the singer will be able to submit the petition and finally a decision will be made.
Download the new game Guess The Celebrity Quiz and check how well you know your idols
Always be up to date with the news and follow the trends!