The Alder Hey children's Hospital on lockdown tonight amid rumours of a planned raid by protesters who support ill kid Alfie Evans as he clings to life.
Alfie was barred from going to Italy for treatment after the Appeal Court today rejected last-ditch pleas by Alfie's family to have him airlifted from the Liverpool clinic.
The father, Tom Evans, whose appeal to take Alfie to Italy for treatment was rejected just hours ago, was expected to speak to reporters outside Alder Hey Children's Hospital in Liverpool tonight.
But Tom, 21, has delayed his appearance, instead choosing to fall alseep with Alfie, supporters told reporters outside the hospital.
Supporters gathering near the hospital have warned protesters against attempting to enter the building, telling them police would intervene.
Hospital on lockdown is because angry supporters are gathering outside and they are calling to storm the building.
Alfie's mother, Kate James said earlier that Alfie is "struggling and needs immediate intervention" almost two days after having his life support switched off.
Tonight she posted a heartbreaking video of little Alfie as she stroked his face with the words: "My whole entire world I love you so much baby boy".
Earlier today, Tom and Kate failed in an 11th-hour attempt to persuade judges to let them move Alfie, who was born with a degenerative brain condition, to a foreign hospital.
Tom and Kate, are both in their early twenties and both from Liverpool, say that life-support treatment should continue to be provided to their little, 23-month-old son.
Doctors argued that it was in Alfie's best interest to end his life support rather than be taken to Rome with the support of the Italian government – a view backed by the courts.
The couple said their son had confounded specialists' expectations by continuing to breathe despite being disconnected from a ventilator and provided with only palliative care.
Father Tom Evans, earlier today also said that if his son die, he will sue everyone involved for murder.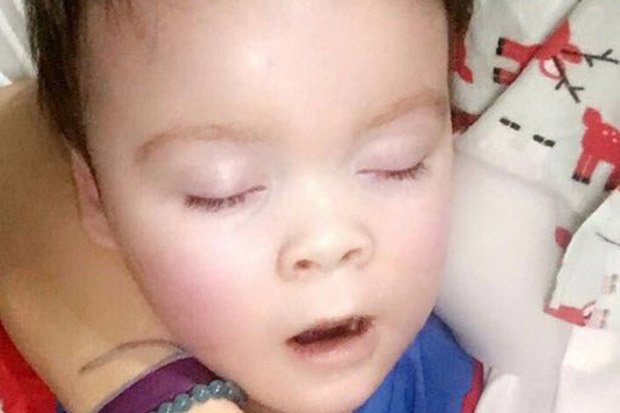 A High Court judge ruled against them on Tuesday and three Court of Appeal judges dismissed a challenge to that decision on Wednesday.
Lawyers representing Alder Hey bosses said Alfie's condition was irreversible and there was no evidence that it had changed.
They said the fact that he had continued to breathe unaided might have surprised members of the public but had not surprised specialists.
Lord Justice McFarlane, who headed the appeal court panel of judges, said Alfie's parents were trying to take "one last chance".
But he said there was no prospect of the couple's challenge succeeding. Also said that Alfie was in "the middle" of a palliative care plan.
The two other appeal judges, Lady Justice King and Lord Justice Coulson, agreed and Lady Justice King said there was "acceptance" that Alfie was dying.
Supporters were reportedly later seen running into the hospital entrance with what appeared to be medical equipment.
Alfie's battling parents vowed to challenge yesterday's ruling in the Appeal Court today.
Tom, said: "The Court of Appeal have reached out to us and said they are going to set back three judges to hear the case.
"In reality, he could be in Italy right now. We all know the military air force are ready to take him and a team of doctors are there."
Last night Tom and Kate were forced to help the critically ill tot's breathing after "his lips turned blue".
Tom also added: "We were doing what a nurse should have been doing to sustain his life. Now they are saying that he looks really good but we all know he should be in Italy right now."
Sources: The Sun, Daily Star